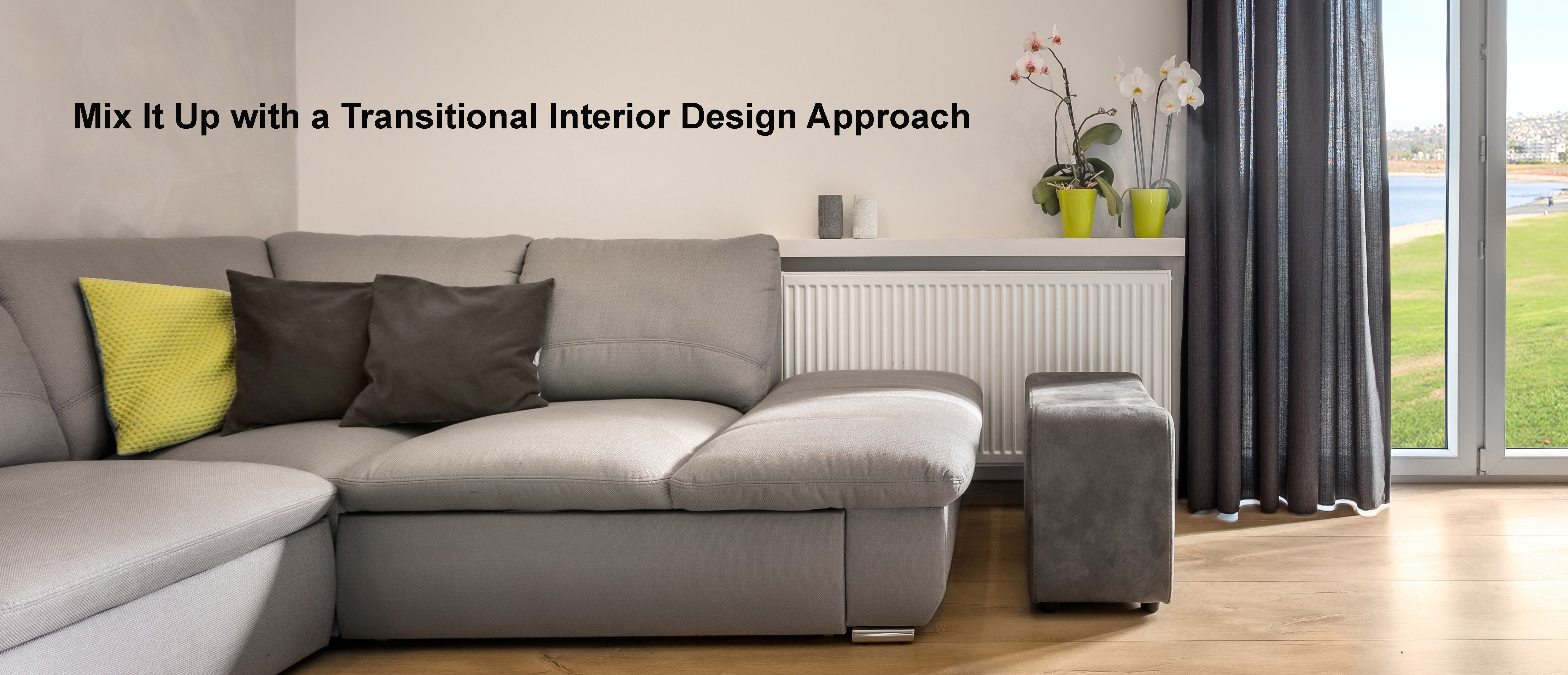 Mix It Up with a Transitional Interior Design Approach
---
Tired of having to follow just one classic interior design style such as modern or traditional? It might be time for a fresh Transitional approach. Transitional design meshes traditional and contemporary looks in furniture, finishes, materials and fabrics. It produces a complementary yet timeless feel and is a great way to bring different decor styles together.
Transitional design can be as easy as mixing old and new or as complex as perfectly balancing each room. It is a simple design style that is lightly decorated with accessories, most frequently embracing a clean room look with added texture and a neutral color palette.
To lend a hand with a transitional design plan, Linea Lighting has compiled this list of valuable tips on how to effortlessly pull off this look.
Neutral Colors Are Key
Subtle and clean color palettes are the hallmark of transitional design. Since design styles are being combined, it is important to surround the room with a central color scheme that isn't overwhelming. Soft and subtle neutrals are best with bases such as grays, tans, and warm whites. Don't be afraid to get adventurous by adding bold color accents such as like dark browns, greens and blues.
Keep color to accessories such as bright pillows and décor pieces. Texture can add a sense of easy luxury to a space, so feel free to incorporate textiles such as corduroy, cotton, chenille, and suede, avoiding vibrant patterns and keeping prints to a minimum.
Apartmenttherapy.com recommends some great ways to approach color and transitional design.
Mix Up Furniture Styles
To really bring the transitional look home, a mix of different furniture design styles is essential. Couches and chairs are typically on the larger side with comfort a priority. Plush, overstuffed pieces that have clean lines are a hallmark of transitional design style.
Easy examples of transitional pairing include combining a contemporary dining set with chairs that have been reupholstered in a classic fabric. Or placing modern side tables next to a classic four cushion sofa. Finally, keep the number of furniture pieces low or place furnishings in groups as empty space plays a large role in making a transitional room feel appealing yet uncluttered.
House Beautiful has some terrific tips when it comes to implementing transitional furniture styles.
Pull it Together with Transitional Lighting
Lighting makes big impact in any room and a transitional setting is no different. Lighting can bring a contemporary look to rooms that favor a traditional style, or it can provide a traditional look to rooms that need something to tone down a sleeker, modern appearance.
The Verona 5 Light Chandelier is a modern take on a classic style and is perfect for traditional rooms that are moving to a transitional design. Another great choice is the Gianna Chandelier which brings a traditional look to a modern space.
Add Metallics
Metallics are trending right now and work well with any design style making them perfect for a transitional look. Choose one finish or mix metals to give rooms a unique and personalized vibe. Gold, bronze or copper look great when featured on side tables, lighting and accessories and play well with either traditional or modern-based furniture pieces.
Check out Invaluable.com to find out about creative ways to mix metals without overdoing it.
The transitional contemporary look gives homeowners the freedom to combine decorating styles while maintaining a unified theme. How will you be making the transitional look work in your home?