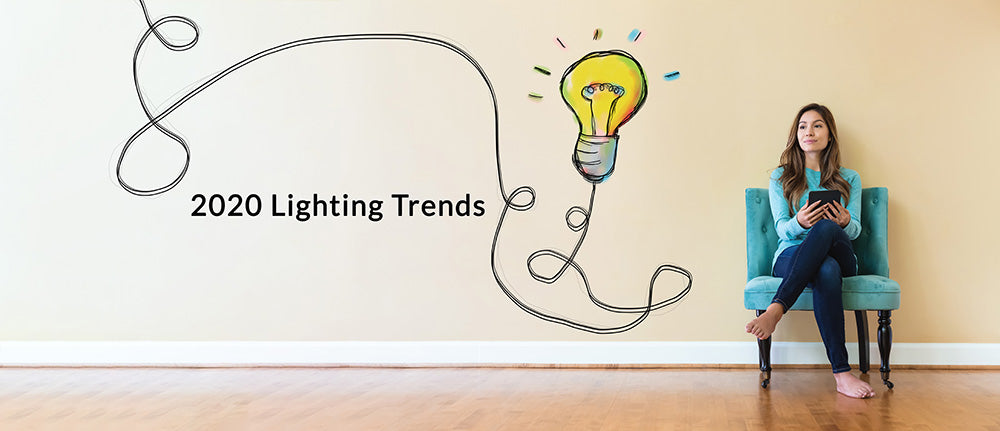 2020 Lighting Trends That Will Brighten Any Home
---
Lighting trends come and go. Here are Linea Lighting's top 2020 lighting trend picks at a glance:
• Retro and industrial lighting styles are making a comeback

• Brass and aged metal lighting rekindle the move to classic

• Statement pieces will dominate larger rooms and entryways

• Geometric lighting is back
Light fixtures add both a functional and decorative element to any home. Pendant lights, chandeliers, wall sconces and more all add to the overall aesthetic of a chosen décor. As time moves on, lighting trends come and go. The savvy homeowner will want to stay on top of these trends to make sure their home looks updated, attractive and is shown in the most flattering light possible.
Retro and Industrial Lighting Styles are Making a Comeback
Industrial lighting has fallen in and out of favor over the past few years. In 2020, it will be making a comeback with an updated look that features sleek metals and varied tones. Expect pieces that are artistic in nature to add an edgy aesthetic to home interiors.
A great example is the Andante Industrial Lighting series- a striking industrial lighting collection featuring pendant lights, wall sconces, ceiling lights and a kitchen island light - that works well in kitchens, living rooms or dining areas.
Brass and Aged Metal Lighting Rekindle the Move to Classic
While industrial metal can give a home a modern look, brass or aged metal is perfect for a factory or vintage inspired décor. Classic lines are in for 2020 and these metals soften interior design.  Brass brings a warm and mellow vibe to a variety of rooms and works well in a range of settings ranging from modern to farmhouse. Soft brass and warm metals can be complemented by grays and matte silvers to provide the perfect color combination.
Check out the Lavilla Pendant Light which offers an antique brass framework coupled with clear glass to give any room a classic feel.
Statement Pieces Will Dominate Larger Rooms and Entryways
When rooms need to pop, adding a big, bold statement lighting piece is the way to do it. Designs can be simple or ornate and they can be positioned wherever a dramatic flair is desired. Think of a bold chandelier as a kitchen island light or adding dramatic foot lighting in other areas of the interior and exterior of the home.
The Sonoro Collection delivers a lot of wow per inch. These metal beauties are perfect for foyer, kitchen island or dining room locations and will add a spectacular look to any room of the house.
Geometric Lighting is Back
Geometric lighting is back! Once limited to round and square shapes only, fixtures are now available in everything from hexagonal to triangular to pentagonal…and the list goes on. Often combined with metal materials, geometry will be reigning supreme in the new year.
When looking for an out of the box geometric design, look no further than the Vizerta Industrial Pendant Light. Set in a dramatic black metal frame, this makes a great centerpiece for most contemporary spaces.
2020 is here and if you want a bright, new style for your home, these trends can help you get an updated look that is sure to impress. Any of these stunning styles will be perfect for moving interior design into the new year. Which new lighting trends are you most excited about?